Starbucks' first NFT collection became a massive worldwide hit, having its NFTs sold out in only under 18 minutes! 
Because of its success, The Siren Collection Stamp has been in an uptrend ever since – a 400% increase in value. 
With this reputable record, will the newest collection keep up with the bullish pace raised by its previous project? 
Well, we're going to find out! Here's what you need to know. 
THE ALPHA
Starbucks just recently launched their hottest second NFT series collection in the market, "The First Store Collection".
The new collection is set to feature 5,000 unique NFT "stamp" collectibles, each amounting to a $100 price in the market.
With these "stamps", holders will receive 1,500 points that can be used to redeem rewards on Starbucks' Odyssey Web3 platform.
Additionally, its NFTs are minted under the Polygon blockchain and are currently available in Nifty Gateway for transactions.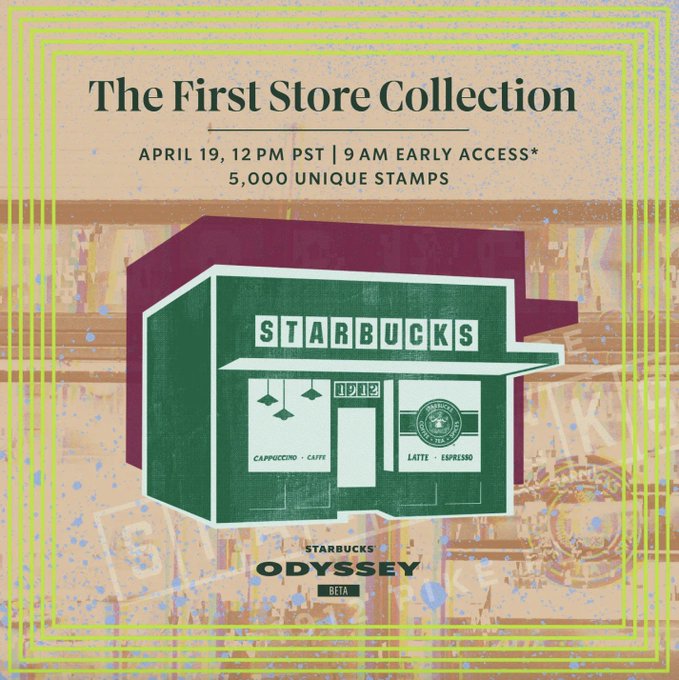 MORE DETAILS ABOUT THE COLLECTION
The Starbucks First Store Collection draws inspiration from the company's first physical store, established in Seattle, Washington in 1971. 
As a tribute, the NFTs also include a collage of photos, in-store textures, and prominent icons that resembles the company's roots. 
Moreover, by owning one of its NFTs, buyers can take part in its history and feel a sense of exclusivity and ownership.
But aside from those, the launch paved the way for the coffee giant's Web3 platform debut, Starbucks Odyssey. 
WHAT IS STARBUCKS ODYSSEY? 
Starbucks Odyssey is a Web3 interactive platform that provides members an opportunity to earn more digital assets. 
But in case If you're wondering how, you can earn them by participating in the platform's main feature, "Journeys". 
For the current beta version, the Starbucks Odyssey program contains two developments, namely: 
Coffee Heritage – giving users a way to learn more about the origins of Starbucks.

Holiday Cheer – focusing on topics regarding holiday seasons.
Once a journey is complete, members will earn points and digital assets that unlock access to exclusive benefits and immersive coffee experiences. 
Here's how Starbucks are utilizing NFTs to augment their loyalty program

Starbucks Odyssey is an extension of the Starbucks Rewards program that allows members to earn and purchase digital collectible assets that unlock access to new benefits and immersive coffee experiences. It… pic.twitter.com/sdwV5zBSKz

— Shoomi (@Shooommi) April 19, 2023
WHAT'S NEXT? 
Starbucks has succeeded in its Web3 business ventures so far, having degens been bullish more than ever. 
By combining traditional marketing strategies with blockchain technology, Starbucks has attracted new target customers in the market. 
And because of this, they were able to retain their loyal customer base while also entering new markets by giving all of them a sense of exclusivity and ownership.
5/9 I'm sure web3 is getting more popular thanks to #NFT and #GameFi, because:
🔹 NFT creators earned more than $1.9 billion
🔹 Brands are exploring web3: @adidas, @Starbucks, @Porsche, @gucci, etc.
🔹 More than $67.9 billion was spent on digital in-game purchases in 2022 pic.twitter.com/v15juaL3hj

— Renat Gafarov | ReHold (@renat_rehold) April 12, 2023
WEB3 SENTIMENTS 
Following the launch of their latest build-out, many Web3 enthusiasts were excited, given the company's past success.
Some say that the collection's NFTs were dope.
Starbucks NFT is extremely cool!

— Jonah 🎮 (@RealJonahBlake) April 14, 2023
Others also consider it an honor and opportunity to dwell in the company's journey inside and outside of Web3. 
"Starbucks has taken a bold step into the world of blockchain technology with the First Store Collection NFT release. As a coffee lover, owning a piece of the company's history through a virtual souvenir is a unique and exciting opportunity. Plus, with 1,500 points." A community member said via tweet. 
CONCLUSION 
Each successful business always had a place to start, and Starbucks is one of those that thrived over time.
But it's also essential to note that establishments should adopt the evolving society for consistent success. 
So seeing Web3 as a current trend, Starbucks saw this as an opportunity and decided to integrate its bean scene into the decentralized market.
So, what do you think about this update? 
---
Editors' Note: The Mega Maxi's articles and its external content are not financial advice. Always DYOR.