Another day and another milestone for Web3 Philippines, as Gcash participates in the NFT market after making several breakthroughs! 
As more Web3 opportunities emerge, Gcash finally broke traditional barriers and decided to explore the metaverse with its newest NFT project. 
But of course, this wouldn't be possible without the help of prominent platforms carrying Web3's uptrend.
So, to begin, let's dive into this article to know more! 
Introducing the House of Ohlala NFT
GCash, one of the Philippines leading digital wallets, has collaborated with LikhaNFT and Vinyl on Vinyl to launch its House of Ohlala NFT.
The Ohlala NFT Collection subtly reflects the social and economic classes occurring in our current society.
In each NFT, Ohlala's head is covered by a canvas cloth, representing the idea that everyone, regardless of economic status, can shape their destiny and reject societal norms.
Besides that, Ohlala's facial features are filled with various symbols and patterns inspired by the saying, "It is written all over your face". With this thought, Barrera also elaborates on how facial expressions convey emotions and messages, surpassing verbal communication.
Visual artist Reen Barrera launched his first non-fungible token (NFT) project, "House of Ohlala," in collaboration between GCash, homegrown NFT marketplace Likha, and art gallery Vinyl on Vinyl.#HouseOfOhlala#Likha #VinylOnVinyl#GCash #NFT #ReenBarrera pic.twitter.com/yLSSqdFi1X

— Manual To Lyf (@manualtolyf) April 23, 2023
Details about the NFT Project
House of Ohlala NFT comprises a total supply of 1,000 Ohlala NFTs and are minted under the Polygon blockchain.
Each NFT amounts to a price of 100 MATIC, equating to approximately PHP 5,545.68 at the time of writing.
With the release of this project, Gcash seeks to bolster its mission of gaining more opportunities to help its community thrive in the Web3 market.
Aside from those, degens can buy, sell, and trade these NFTs in homegrown LikhaNFT gallery and marketplace.
Likha enters the House of Ohlala 👾💜

Minting soon 🤫 https://t.co/0CqAHVd7RK pic.twitter.com/BoFsk3zUHq

— Likha (@LikhaNft) April 21, 2023
Benefits of Owning a House of Ohlala NFT
If you become a holder of this collection, you'll also get to enjoy exclusive enjoyable benefits, including:
A chance to own a rare House of Ohlala NFT
Early access to the artworks and future collections of Reen Barrera
A chance to win Statues through a raffle every quarter
Being a part of the first GCash NFT Community
Having a House of Ohlala Merchandise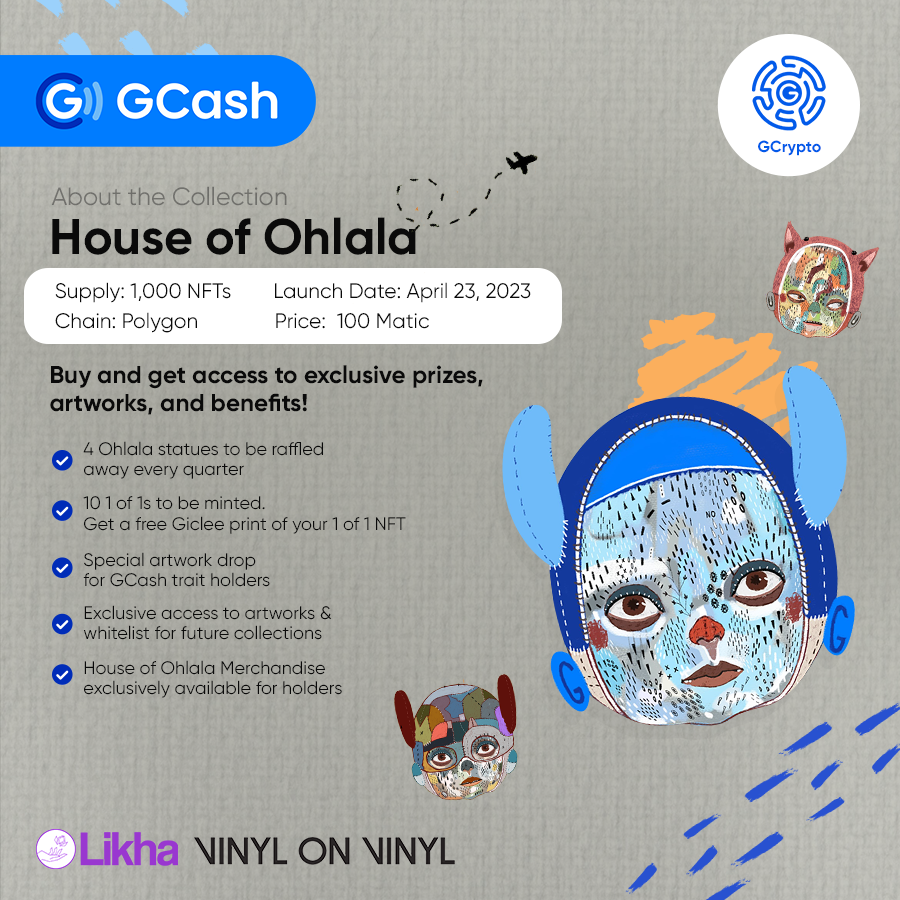 ABOUT THE ARTIST
House of Ohlala NFT derives life and meaning from the genius mind of Reen Barrera, the artist behind the project.
Reen Barrera is a Filipino artist whose artworks draw inspiration from childhood experiences of fixing church sculptures and making toys out of recycled materials.
Moreover, he uses his style in his handmade artworks – characterized by vivid hues and street art, as seen in this project. 
CONCLUSION
In conclusion, GCash's House of Ohlala NFT project marks a significant milestone for the company and to the Philippine Web3 ecosystem.
Overall, with this innovative move, GCash demonstrates its commitment to staying at the forefront of the digital landscape and providing its users with cutting-edge technologies and services.
---
Editors' Note: The Mega Maxi's articles and its external content are not financial advice. Always DYOR.